Roll over image to zoom in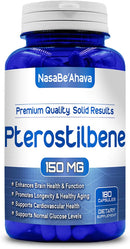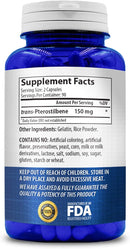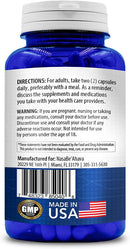 Description
Pterostilbene is a natural compound found in blueberries, grapes, and other plants. It is structurally similar to resveratrol and has been studied for its potential health benefits. Some of the potential benefits of taking Pterostilbene supplements include:

Antioxidant and anti-inflammatory properties: Pterostilbene has been found to have potent antioxidant and anti-inflammatory effects, which may help protect against oxidative stress and chronic inflammation.
Improved cardiovascular health: Pterostilbene has been shown to improve lipid metabolism and reduce blood pressure, which can help improve overall cardiovascular health.
Neuroprotective effects: Pterostilbene has been found to have neuroprotective effects, potentially helping to protect against cognitive decline and neurological disorders such as Alzheimer's disease.
Anti-cancer properties: Pterostilbene has been shown to have anti-cancer properties, potentially helping to prevent the growth and spread of cancer cells.
Enhanced glucose metabolism: Pterostilbene may help improve glucose metabolism and insulin sensitivity, making it a potential therapeutic agent for managing diabetes.
Overall, taking Pterostilbene supplements may provide a range of potential health benefits. However, it's important to talk to a healthcare provider before adding Pterostilbene supplements to your routine.