Roll over image to zoom in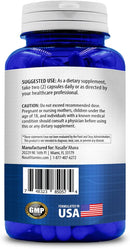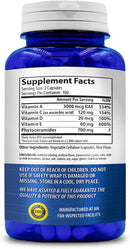 Description
Phytoceramides are plant-based lipids that are similar in structure to the ceramides found naturally in the skin. They have gained popularity in recent years as a potential anti-aging supplement. Some of the potential benefits of taking Phytoceramides supplements include:

Improved skin hydration: Phytoceramides may help improve skin hydration by helping to lock in moisture, which can help reduce the appearance of fine lines and wrinkles.
Increased skin elasticity: Phytoceramides may help improve skin elasticity by supporting the production of collagen, which is essential for skin elasticity.
Reduced sun damage: Phytoceramides may help protect the skin against sun damage by supporting the skin's natural barrier function and helping to reduce inflammation.
Enhanced skin barrier function: Phytoceramides may help enhance the skin's barrier function by promoting the formation of a protective barrier on the skin's surface.
Improved overall skin health: Phytoceramides may help improve overall skin health by supporting the skin's natural repair mechanisms and reducing oxidative stress.
Overall, taking Phytoceramides supplements may provide a range of potential benefits for skin health and appearance. However, it's important to talk to a healthcare provider before adding Phytoceramides supplements to your routine, particularly if you have any pre-existing health conditions or are taking medication.