Roll over image to zoom in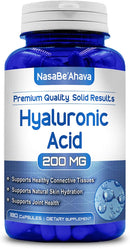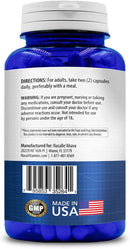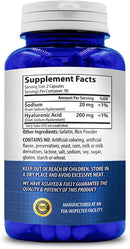 Description
Hyaluronic acid is a molecule naturally present in the body, particularly in the skin and joints. However, it can also be taken as a supplement. Some of the potential benefits of taking Hyaluronic Acid supplements include:

Improved skin health: Hyaluronic acid can help retain moisture in the skin, leading to a plumper, more hydrated appearance. It may also help reduce the appearance of fine lines and wrinkles.
Joint health: Hyaluronic acid is an important component of joint fluid, and taking supplements may help reduce joint pain and stiffness, particularly in individuals with osteoarthritis.
Eye health: Hyaluronic acid is also present in the eye, and taking supplements may help improve eye health and reduce symptoms of dry eye.
Wound healing: Hyaluronic acid may help improve wound healing by promoting the growth of new blood vessels and helping to regulate inflammation.
Gum health: Hyaluronic acid supplements may help improve gum health and reduce symptoms of gingivitis.
Overall, taking Hyaluronic Acid supplements may provide a range of potential health benefits. However, it's important to talk to a healthcare provider before adding Hyaluronic Acid supplements to your routine, particularly if you have any pre-existing health conditions or are taking medication.