Roll over image to zoom in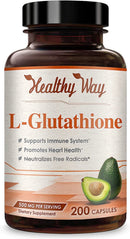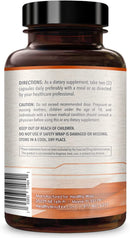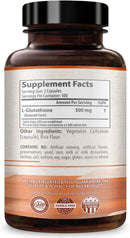 Description
Huge Supply: 200 Veggie Capsules per Bottle *
Max Strength: 500mg per Serving *
Vegan and Vegetarian Friendly Formula
Reduced Form L-Glutathione
Made Right Here in the USA
No Gluten, No Dairy, No Soy *
Third Party Tested for Quality *
 

FEEL THE DIFFERENCE WITH GLUTATHIONE
NATURAL FORMULATION
 

Vegan Friendly Formula *
Made with Natural Ingredients *
No Preservatives, No Gluten, No Soy *
Max Strength: 500mg per Serving
Huge Supply: 200 Vegetable Capsules
USA Formulated Product
 

AMAZING BENEFITS
 

Powerful Antioxidant & Detoxifier *
Helps Reduce Oxidative Stress *
Free Radical Scavenger *
Supports Energy Levels *
Supports Cellular Health *
Promotes Immune System Health *
Supports Liver Health *
Supports Cardiovascular Health *
 

ANTI-AGING & SKIN HEALTH
Glutathione is essential for removing toxins from the body. Low levels of Glutathione have been linked to many of the body's aging processes. *

Maintaining healthy levels of Glutathione can help slow the aging process and help you maintain and enhance your energy levels. *

In addition to having powerful anti-aging properties, Glutathione also supports skin health and bright complexion. *

* These statements have not been evaluated by the Food and Drug Administration. This product is not intended to diagnose, treat, cure, or prevent any disease.